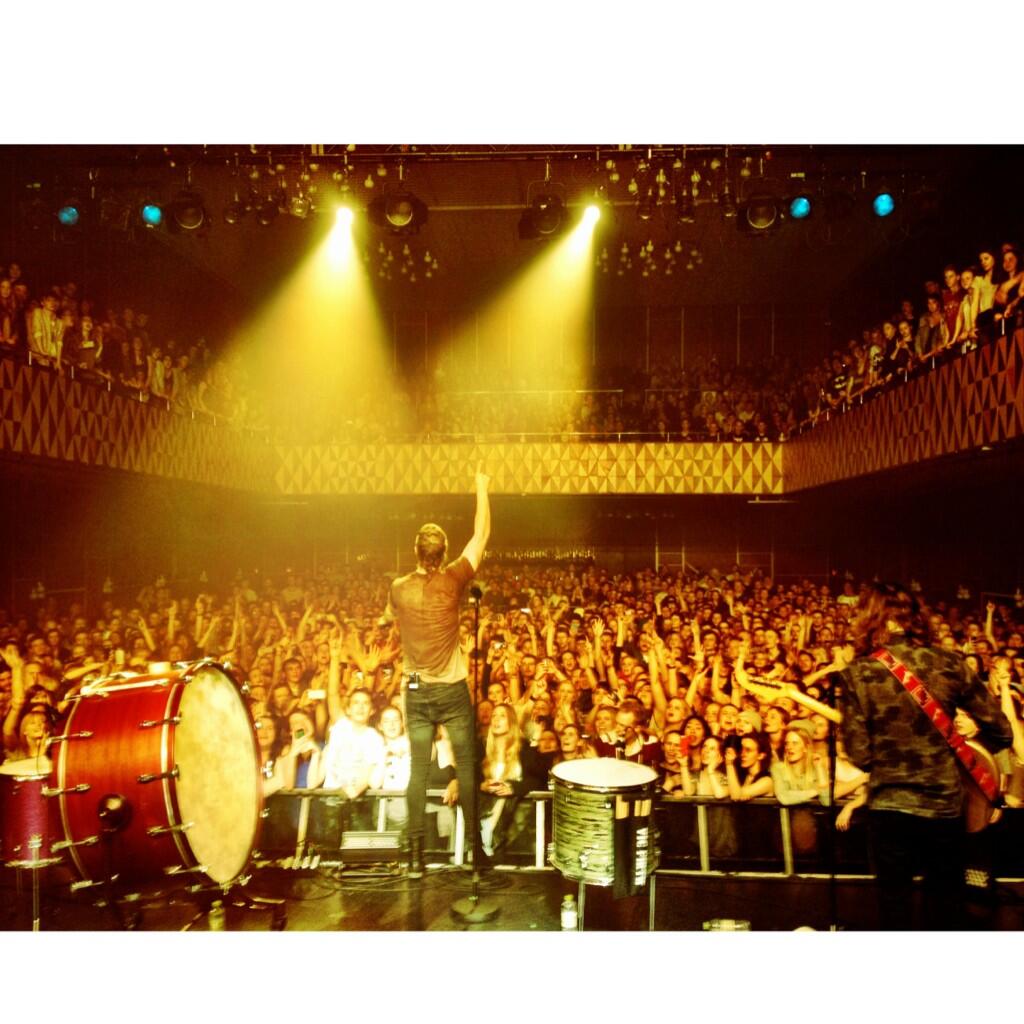 Credit: Ryan Walker, touring keyboardist.
Wednesday I went with my friend to see Imagine Dragons live in Copenhagen. Actually I'm not much of a fan, I know that one song, Radioactive, and that's about it. But my friend had no one to go with and the ticket wasn't too expensive, so I figured I'd go. I have loads of good experience from going to concerts with bands I don't really know. Well, that's how I became a fan of You Me At Six anyway, haha.
I came around 16.30, right after work. And surprisingly enough, I was the third freaking person to be in line. I have never tried that before, seriously. My friend had been there since noon, and she even skipped a class in school, because she was sure there'd at least be some people. But nope.
I did get away from my friend as we were let in, because some stupid security man told me to put my jacket in the wardrobe, but I didn't have any money, so I had to buy a beer to get some money, so I could stand in line for a long while. I still ended up on the 2nd row, right behind my friend, amazingly enough. Perks of being tiny!
The show itself.. It was just wow. The smile never left my face for one second through the entire concert. I was just dancing and having a really good time, even though I knew one of the songs they played. The crowd was insane, everyone was dancing, clapping, screaming.. But no one was pushing, at least not were I was standing. It was just one big, happy party!
After the show we stayed to meet all of them, and they were really genuinely so sweet, all of them! They took their time to talk to all of us, who were standing in the rain to meet them, and they made jokes with all of us, hugged us, took pictures, and signed everything. And they made sure we were all okay and that we got what we needed, before they went into their bus. There weren't many fans out after the show, not even 20 people, but I still think it was really nice of them to treat their fans like that.
They all talked about how much they loved being in Copenhagen and playing for their Danish fans, so they were definitely going back some day soon. Now, all bands kind of have to say that, so we'll see. But I know that no matter if they're going back to Denmark or not, I'm going to see them live again at some point!
Their next concert date in Denmark is already planned, but it's at a festival in Aarhus, and I'm not going to that.
Sorry for the delay of this post, but I've been ill as fuck since the day after the show. But here you have it!